Creativity has always been at the heart of an art department. But sometimes creativity can be too elusive and intangible to pin down. This is why the leader and the specialist are important roles in the art department. The call is to ensure all creative deliverables are well executed and align with the client's expectations.
But what is actually the obligation of both roles?
The role of an Art Leader
Things You Need to Master
To become one, an Art Leader must understand the basic art concepts from color theory and visual composition to 3D texture. You must translate abstract thinking into stunning optical outputs and an understanding of digital software like Adobe Photoshop, Blender, etc.
Not only the creative manner itself, you will also need to have excellent management, communication, and problem-solving skills. This means you must be able to manage all deliverables, time, and workload, formulating creative solutions and giving necessary suggestions according to your artistic experiences.
Challenges You Will Be Facing
There are lots of projects you'll handle. The challenge is to manage all with 100% of your attention. Sometimes, you will need more human resources added to your team, which can be challenging.
The Perks You Will Have
Art Leaders will have broader insights into the art pipeline and product direction, have the agency to turn the artistic vision into reality and have a decisive say in strategic decisions within the team. You will have the freedom to grow your team in such a creative way and participate in the global game industry.
The role of an Art Specialist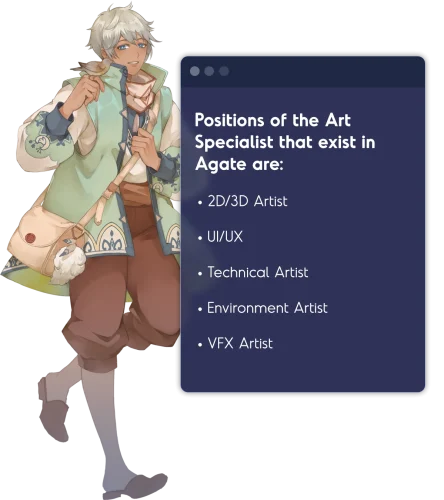 Things You Need to Master
As an Art Specialist, you are required to have some specific skills and knowledge and master some particular tools to optimize the output. Other than that, soft skills will also be fundamentally required, especially problem-solving, time management, communication, and creativity itself.
Challenges You Will Be Facing
Full commitment to put your heart into the project you handle and the willingness to know more and explore such trends, styles, and art approaches might be very challenging, especially when you must learn something different from your taste and preference.
The Perks You Will Have
You can focus on learning the desired field and develop the required skills. You will also be the expert to solve specific problems in your team.
If you think you are the right person to fill one of those positions, we are delighted to have you on our crew! Head to the vacancy list below and see which job matches you perfectly!