The long-awaited title, Valthirian Arc: Hero School Story, that will be released for the console and PC now finally has an official worldwide release date! Valthirian Arc: Hero School Story will be available in the form of digital and physical copy for the PlayStation 4, Nintendo Switch, and Steam on October 2nd, 2018.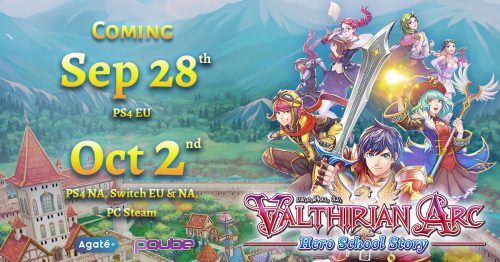 This RPG/simulation game has been showcased in many big gaming events, both local and international. Such events are the Game Prime 2018, C3 AFA Jakarta 2018 (AFA Play), and PlayStation Experience South East Asia held in Bangkok last August. Furthermore, Valthirian Arc will also be showcased in the upcoming Tokyo Game Show 2018 on September 20th. 
Similar to the earlier two prequels, Valthirian Arc: Hero School Story places the player as a headmaster in an academy for heroes that was once the greatest in all the lands of Valthiria. The main quest of the player is to teach, train, and graduate as many heroes as they can so that the academy can keep living and growing. However, in this newest version of Valthirian Arc, the player would then need to use all these resources to build on and expand the academy, to further train stronger heroes to protect all of Valthiria from a creeping evil. 
Valthirian Arc: Hero School Story that once tentatively named Valthirian Arc: Red Covenant, is a project by Agate to remaster one of their first ever games in order to celebrate the nearing a decade of studio establishment. After publishing this project and gaining over SGD 30,000 from the crowd-fund website, Kickstarter.com, this project came to the light of production. And now, alongside the international-scale England-based publisher, PQube, Valthirian Arc: Hero School Story will be ready to appear again with everything born anew. With all-around improved gameplay, art, and a storyline. 
With the official release of Valtirian Arc: Hero School Story, Agate also aims to introduce the #GameIndoKeren campaign to gain as much as support to motivate Indonesian-made game developers. Agate also implores for everyone that wishes to spread the good the news of anything related to Valthirian Arc to include the hashtag #GameIndoKeren within their post to participate in this large-scale motivating movement.