Indonesia, October 13th, 2021 – This Halloween season, the free-to-play mobile RPG Code Atma brings not one, but two new events: Tower of Tricks and Labyrinth of Treats. Seeker who are up to the challenge should prepare to encounter new spooky enemies as they leap through the floors of the tower and make their way through the labyrinth.
Seekers wielding the Code Atma app would already know the existence of Atma — powerful spirits from legends and folklore living unseen alongside humanity. But on Halloween, it's said that Atma will freely reveal themselves to all of humankind, bringing not only unprecedented challenges but also handsome bounties.
Starting October 13th and running until November 3rd, Seekers can participate in the Tower of Tricks event, where they can engage in even trickier and more difficult battles of three new floors added every day. Seekers who complete the challenge can earn event-exclusive tokens and rewards. 
Later in the month, the second event Labyrinth of Treats will be ready to be explored starting October 20th. Surprises await the most courageous Seekers with even more fascinating battles and treats. 
Additionally, there are new summon banners, limited Halloween-themed skins, and package deals up for grab to accompany Seekers in their trick-and-treating.
Seekers ready for these wicked challenges can join the fun starting today.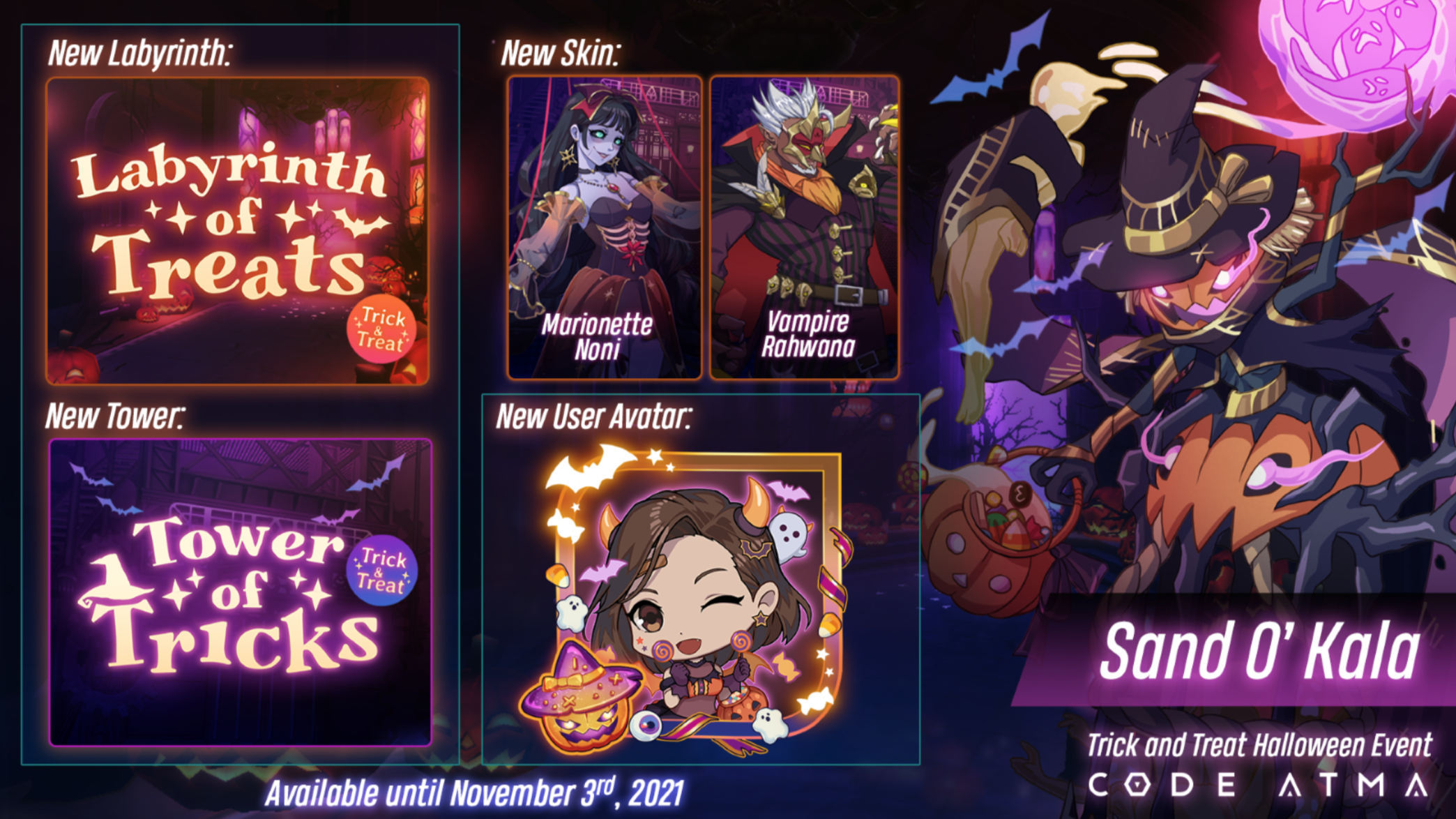 [New Event] 
A tower will emerge and new floors will be available every day. 
Complete the challenge to earn a special token "Jack-o'-cookies" to be traded at the Trick and Treat limited event store. Reach the highest floor and attain the exclusive Chibi Nana Avatar with Halloween Frame​. 
Follow the mysterious path to find the special Challenge Room with extraordinary enemies! 
Complete the labyrinth and obtain a special reward!
[New Limited Event Store] 
Trick and Treat

– Seekers can trade their Jack-o'-cookies with limited Sand O' Kala Sandekala Skin and more Halloween items and resources here!

 
[New Summon Banners] 
Lampir 5* + Rahwana 5*

 

Wisanggeni 5* + Antasena 5*

 
[New Special Offers] 
Elemental Ticket Deals

 

Noni Marionette Skin

 

Deluxe Gift Rahwana Vampire Skin

 
Play Code Atma Now: 
Download on PlayStore