The game interacts with real world food packaging to empower in-game heroes.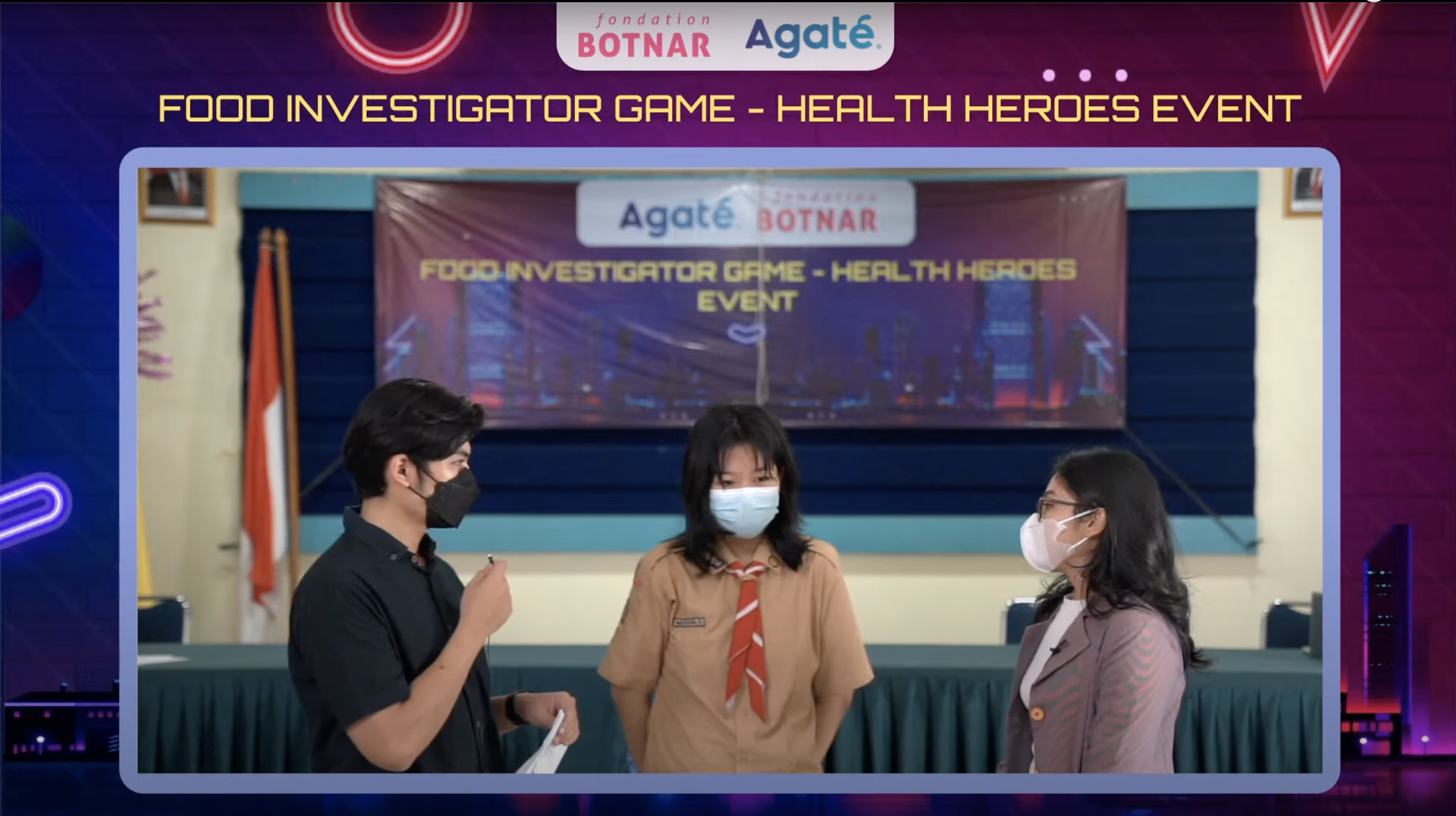 Indonesia, 26 April 2022 – Agate, one of Southeast Asia's biggest game developers, launched Health Heroes for Google Play Store on Wednesday April 20, 2022. The mobile game was made under the funding of Switzerland-based Fondation Botnar to address the problem of nutrition in Indonesian adolescents. 
Health Heroes is a free mobile game that helps people learn about nutrition and map out sources of nutritious snacks around them. The player is put in charge of an agency of microheroes — superheroes who can shrink themselves to fight monsters made out of unhealthy compounds inside the human body, such as surplus fat, sugar, and salt. 
The combat consists of players "flicking" the microheroes to target and attack the enemies by pulling on the microhero unit before releasing them, keeping in mind the trajectory and special power of each unit.  Before the combat, players can choose which microheroes to deploy and which power-ups to equip. Different power-ups bestow a special to the the microhero's attack.
To help their squad, players are invited to actively identify the content of the food they consume by scanning barcodes on front-of-package labels (FOPL) to get the food's nutritional information. By scanning more packages, users can get power-ups for their team of heroes. Players can also register previously unlisted food items to gain additional power-ups.  
Upon launch, the players can already enjoy Campaign mode which takes the players on a journey to lead their microhero agency to defeat enemies around the neighborhood. Players will also get to know the microheroes in their team better, including the reliable Chia, the scaredy Toni, and the lovable slacker Pak Heru. 
The Milestone menu offers in-game goodies for players who finish their daily quests. Additionally, there's also a Raid feature where players can help each other take down powerful enemies that will be implemented in a future update.  
The app was officially launched on Wednesday, April 20, 2022, in an event titled "SCANvenger Hunt", which was held at SMAN 70 Jakarta, and was attended by around 200 students. The game received positive response from the students, particularly for its educational value and how it interacts with real life food items.  
Rakaputra Paputungan, PR Manager of Agate, said "Other than research, the development of this application also took into account the feedback we got from adolescents as the target user, and we refined it accordingly. Hopefully this game can encourage this age group to be more concerned about recognizing the nutritional content of their food, and in turn create a healthier diet pattern."
Adolescents in Indonesia (aged 10 to 19 years) – are faced with the three nutritional burdens of undernutrition, overnutrition and micronutrient deficiency. Data from the Indonesian Ministry of Health in 2020 revealed that 23% of Indonesia's population consists of children and adolescents. However, about a quarter of adolescents aged 13-18 years are stunted while 9 percent are thin or have a low body mass index. On the other hand, 1 in 7 adolescents are overweight and obese.  
Health Heroes seeks to educate adolescents regarding the nutritional composition of the food or beverage they consume and build a healthier lifestyle. It's the latest offering from Agate that integrates video game principles to solve real world problems, after game-based learning platform Levio and interactive virtual convention hall Venhall.
Health Heroes is now available and can be downloaded for Android-based devices, while the iOS version will be launched in the second semester of 2022. The game is currently only available in Bahasa Indonesia. 
Play Health Heroes now: 
Download on PlayStore