Start Your Metaverse Journey Here
The next evolution of internet, the metaverse contains digital ecosystem where people can live, work, and play.
As the next evolution of the internet, we believe the Metaverse will be able to further our mission in bringing people together through time and space.
Since 2009, we've designed engaging experiences, built virtual worlds, and nurtured thriving communities for clients from all kinds of industries. And now we're ready to help you fulfill all your Metaverse dreams.
With the world shifts to web3 and metaverse, there's a huge growth opportunity for us to contribute to making it a positive and meaningful place. I believe the Metaverse should have a lot of fun in it and there is no company that can do it better than Agate.
The metaverse is the next evolution of the internet that allows people to live, work, and play with a digital ecosystem. Focusing on Agate's purpose in the Metaverse, it will enable our mission statement—to bring people together through meaningful play—even more.
As a person who engages with corporate leaders from HR and Marketing, I believe sustainability matters. That's why we need to get back to fundamental to navigate its core: utility. The utility of web3 and metaverse will sooner converge and change the way we live, play, work, and learn. 
The metaverse is the next evolution of the internet that allows people to live, work, and play within a digital ecosystem.
Metaverse Building Blocks
We have several building blocks that we adhere to in all of our metaverse projects. By striving to include those building blocks, we aim to achieve the full potential of the metaverse.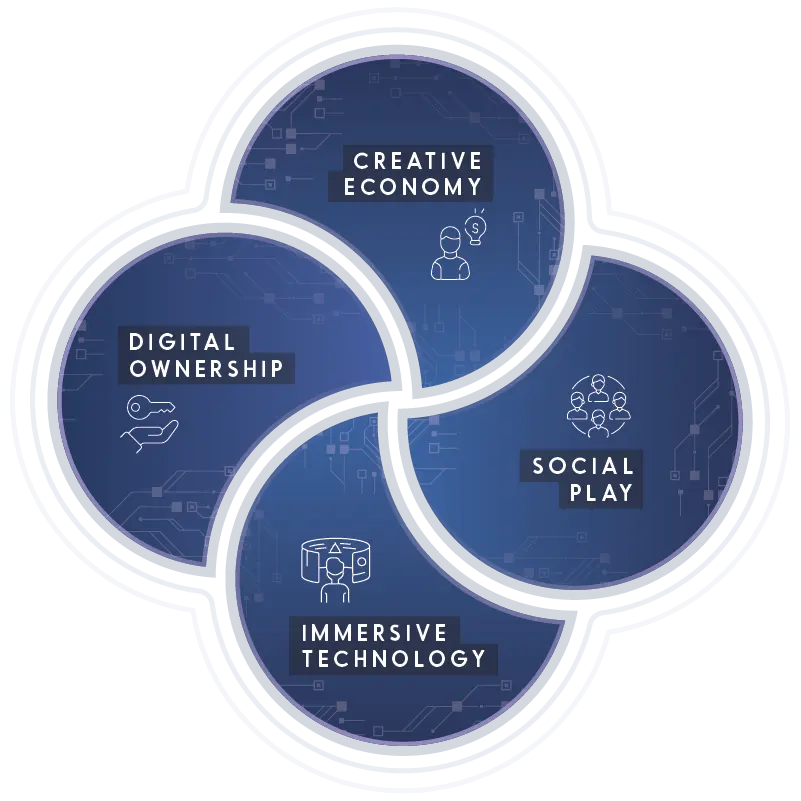 Through an enhanced sense of presence, the metaverse enables social activities that are not limited by boundaries. Social-playing activity becomes the element that constantly brings unique experience and growth, providing a reason for users to stay.
Digital ownership that is enabled through persistent blockchain technology now justifies the amount of effort, time, and resources that users spend virtually in a metaverse as a method for self-expression.
The Metaverse enables everyone to be a creator and sell their creations on the digital market. The borderless nature also makes collaboration easier than ever. It's a great place to showcase your creativity to the world – and earn money doing it.
The Metaverse utilizes immersive technology to present a whole and authentic reality to explore. Wear a variety of digital items to express yourself and start your own unique journey in the vast world of the Metaverse.
Interact and engage with your audience on a deeper level. Create unforgettable events and moments that will make you the talk of the Metaverse.
Create and collaborate with other creators worldwide. Showcase and sell your creations or use them to innovate digital experiences and make a name for yourself
Provide more accessible public services, conduct virtual tours, and create jobs in the digital economy sector. Engaging the populace and industries is easier than ever. 
Explore new forms of games, enjoy the robust community, and claim full ownership of your digital assets. Earn items from playing that you can use and trade throughout the Metaverse. 
Create assets, games, and experiences within the Metaverse. Game principles can be used to improve and retain user engagement, which is in high demand in the Metaverse.
Get directly involved in the co-ownership and governance of projects you believe in. Enjoy a greater synergy with your beneficiaries and shape your corner of the Metaverse.
Frequently Asked Questions
Got questions, ideas, or concerns?
Lets talk and see what we can create together.